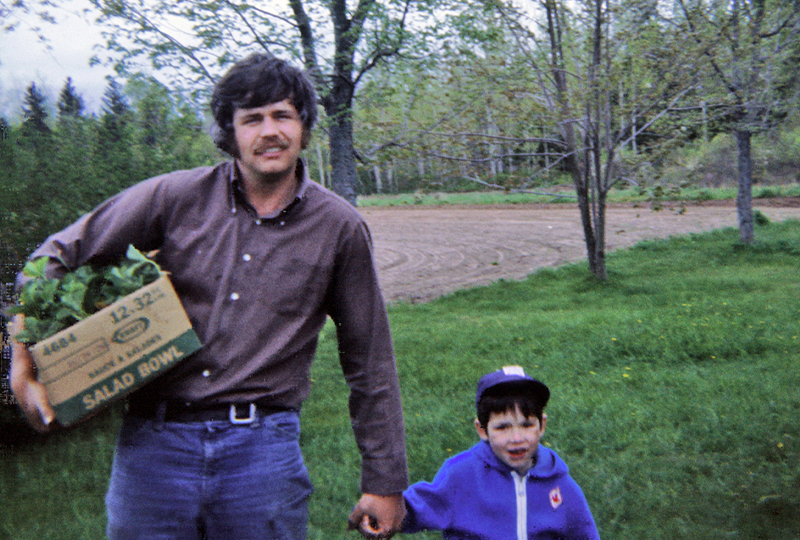 Andrew Herygers is a Halifax-based designer, photographer, writer, artist and Rider in this year's Ride for Cancer powered by BMO Bank of Montreal. Hosted by the QEII Foundation, this signature event will take place on October 3. Andrew will join over 800 others taking part in the event and ride an impressive 75-kilometres on the trail from Chester, travelling along the Rum Runners Trail to Bayers Lake.
"I've been wanting to participate for the past three years however the timing hasn't worked out until now. Many people in my family have been affected by cancer and Ride for Cancer seems like a great way to support this worthwhile cause while also challenging myself physically," says Andrew.
Andrew is riding in honour of the many people in his life who have been affected by cancer – but especially his father, Bill Herygers whose life was taken too soon by cancer, just two weeks short of his 52nd birthday.
"I will never understand how he could have leukemia", says Andrew. "He lived a healthy lifestyle, ate well, didn't smoke, didn't drink (except for the occasional beer), and was physically active. He worked extremely hard all his life and excelled at everything he applied his hand and mind to. He was in the prime of his life and looking forward to retiring. He accomplished so much during his short time here on earth, it still amazes me."
While Father's Day can be tough for those without a dad, Andrew is taking the opportunity to remember his today – by honouring his dad's legacy and sharing his story, which has become Andrew's reason to Ride.
Andrew describes his dad as someone who was quiet and gentle at home, and in his work-life ­­– a jack-of-all-trades and a master of many.
"My dad was born in Klein-Zundert, Netherlands on March 25, 1947," explains Andrew, "He was the ninth child born in a family of 16. His family immigrated to Canada in 1952 shortly after World War II. He grew up and worked on the family farm in Parkhill (ON) and Middleton (NS)."
His calm demeanor is the thing Andrew misses most about his dad, and something he may choose to channel during Ride day on the trail when the going gets tough.
Andrew is a man of many hobbies – he keeps busy with music (drumming), travel, researching Atlantic Canadian history and of course, cycling but one pastime he misses, is just sitting and chatting with his dad.
"We used to spend a lot of time talking about a wide variety of topics. He was always there for me and very supportive. I miss his advice in my day to day life."
This Father's Day, as Andrew gears up for his first ever Ride for Cancer, he is remembering his dad and has a special message to share with our Ride community who are celebrating the dear-old-dads in our lives today, "Appreciate and spend time with your dad. Make sure to take the opportunity to spend quality time for conversation and thank him for all he's done."
With 1 in 2 Atlantic Canadians diagnosed with cancer, everyone in our region has a reason to Ride, just like Andrew.  Whether you are celebrating a survivor, showing support for a loved one in treatment or honouring someone who has passed – you can join our fight and help transform cancer care here at home when you register for Ride for Cancer powered by BMO Bank of Montreal, register today 
https://yourrideforcancer.ca/wp-content/uploads/2020/06/AH-1.jpg
540
800
info@qe2foundation.ca
https://yourrideforcancer.ca/wp-content/uploads/2022/02/BMO-Ride_2022_Logo_wp.png
info@qe2foundation.ca
2020-06-19 06:27:35
2020-06-19 10:09:29
Remembering dad and riding in his honour